Word: Skeleton Screens
Definition: A blank version of the page currently loading. Users generally see gray boxes where images will soon appear alongside gray lines denoting areas where text will load.
Thoughts: This is a common user experience technique is used as a page load distraction device. It is acommon alternative to the loading spinners, beachballs of death, and agonizing progress bars.
By displaying skeleton content, it gives the user the illusion that things are happening immediately. When the user sees something, anything, appear on screen, she tends to be less impatient knowing that her command has been heard and action is taking place.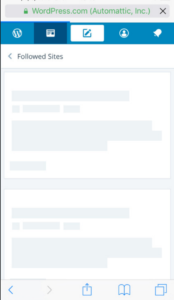 Reference: I first came upon this term reading Luke Wroblewski's blog in reference to his mobile app Polar, which utilizes the technique.
Skeleton screens can be seen all over the web and on mobile. Pay attention next time you're waiting for a Medium article to load or you're opening up your LinkedIn app.
Published by: hannah in ui