Teach For America
Web application for scheduling job placement interviews.


Teach For America is a national non-profit working to create educational equity for all children. The organization wanted to create an enterprise web application to be used in its regional offices across the country that would manage the Corps Member interview and placement process. Once applicants are accepted into Teach For America, the Corps Members are assigned to a region. The regional staff must set up interviews for these Corps Members with schools in their placement district. The process of matching the most qualified Corps Member to the best-fit teaching positions is a delicate and deliberate process that was made easier and more accurate through the development of the new hiring fair web application.
My Role: Research, interaction design, and visual design.
Project Duration: 5 months
Goal: Design a single hiring-fair set-up tool that will be used by 50 TFA regional offices, yet adapt to differing regional use cases and practices.
Result: Time it takes to set up a hiring fair schedule decreased from 2 weeks to 5 days.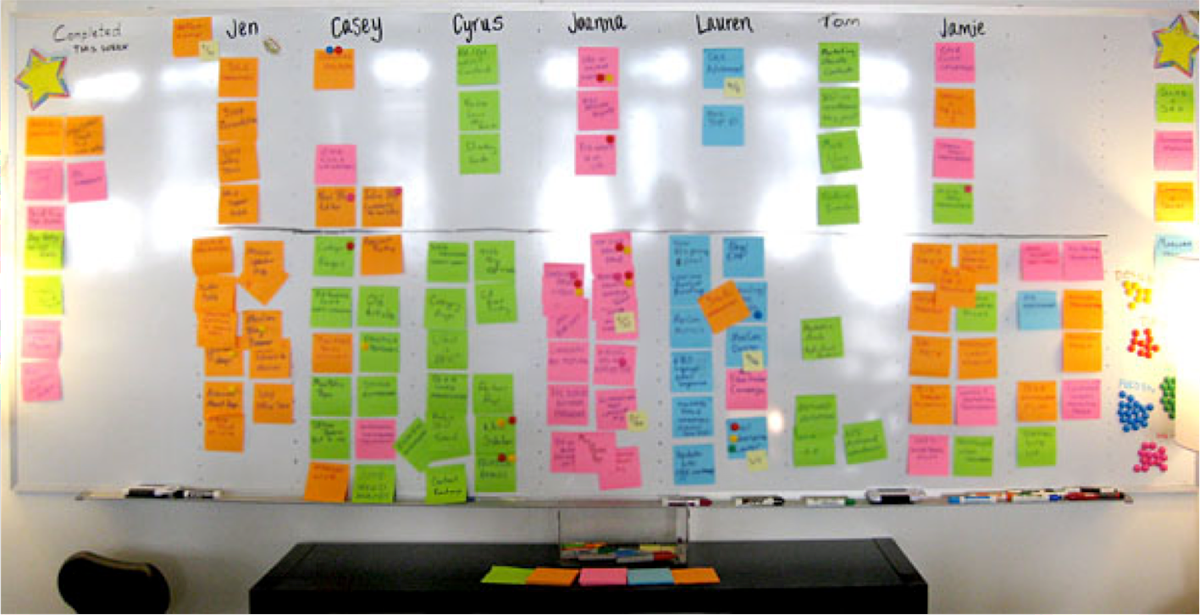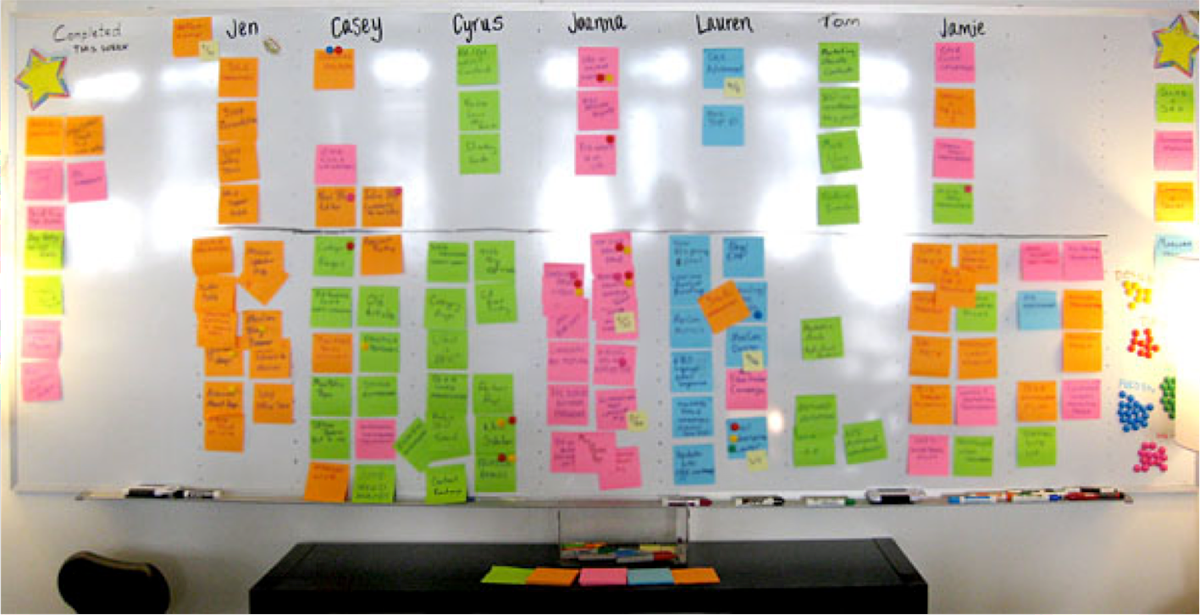 Research.
The Hiring Fair application would live within another custom built Teach For American application called Placement Tracker. Therefore, the first step in my research was to conduct an extensive and thorough heuristic evaluation of the Placement Tracker application to better understand how my team could utilize both backend data as well as UI elements from the existing platform. From there, it was all about the users. My team focused the vast majority of our research efforts on interviewing and observing our end users.
My team set up interviews with 20 of the 50 Teach For America regions across the country that were representative of major regional demographics. I designed the user interview questions and led the majority of the engagement calls, and then snythesized the engagement findings by cross-referencing the similarities and differences from region to region.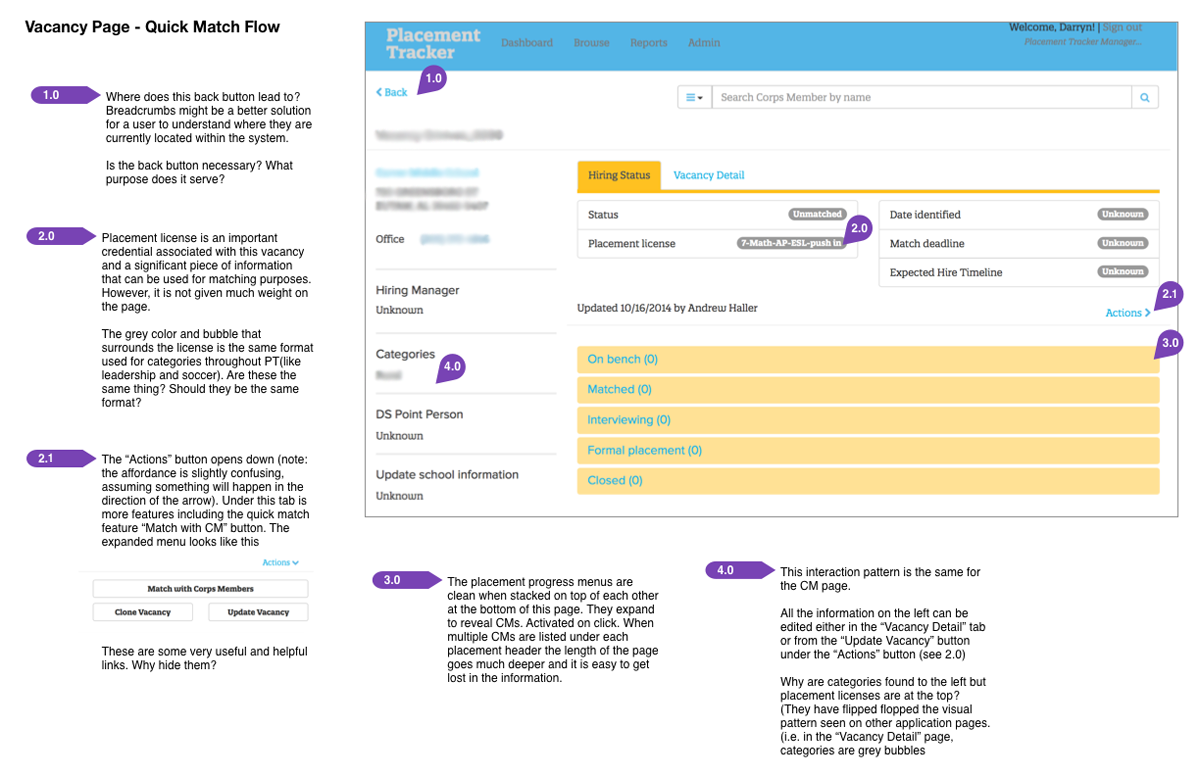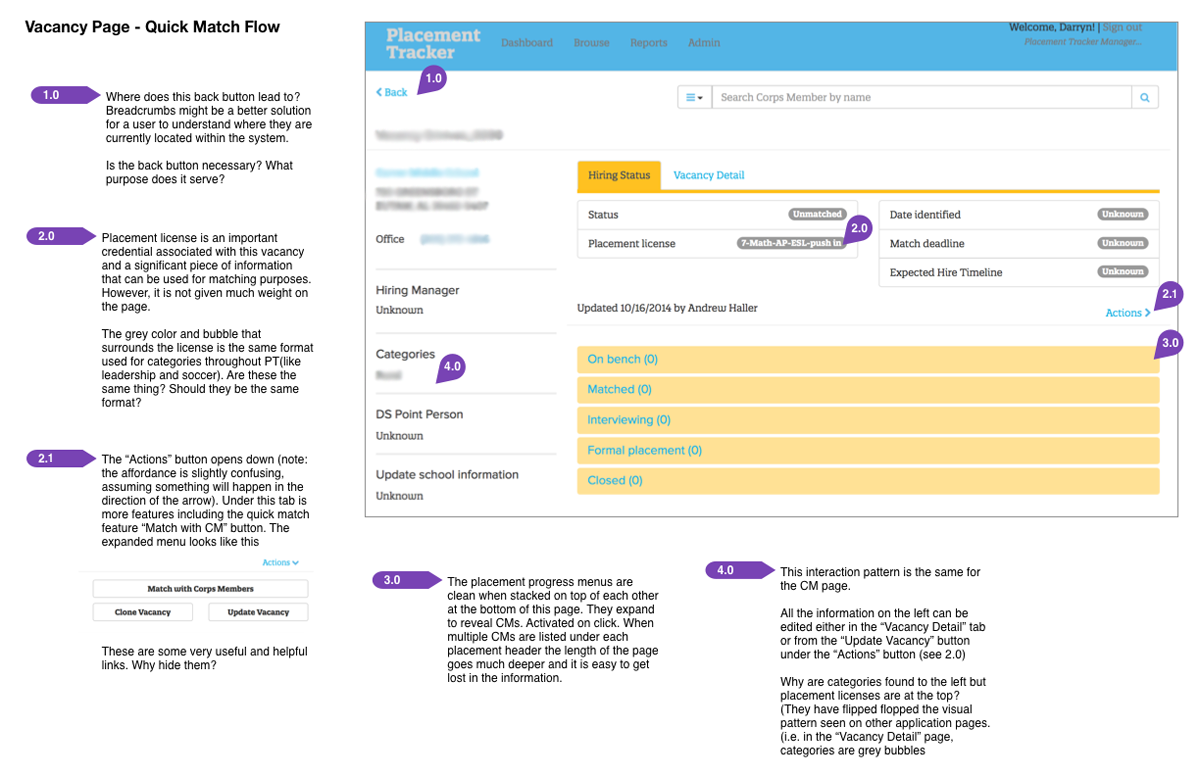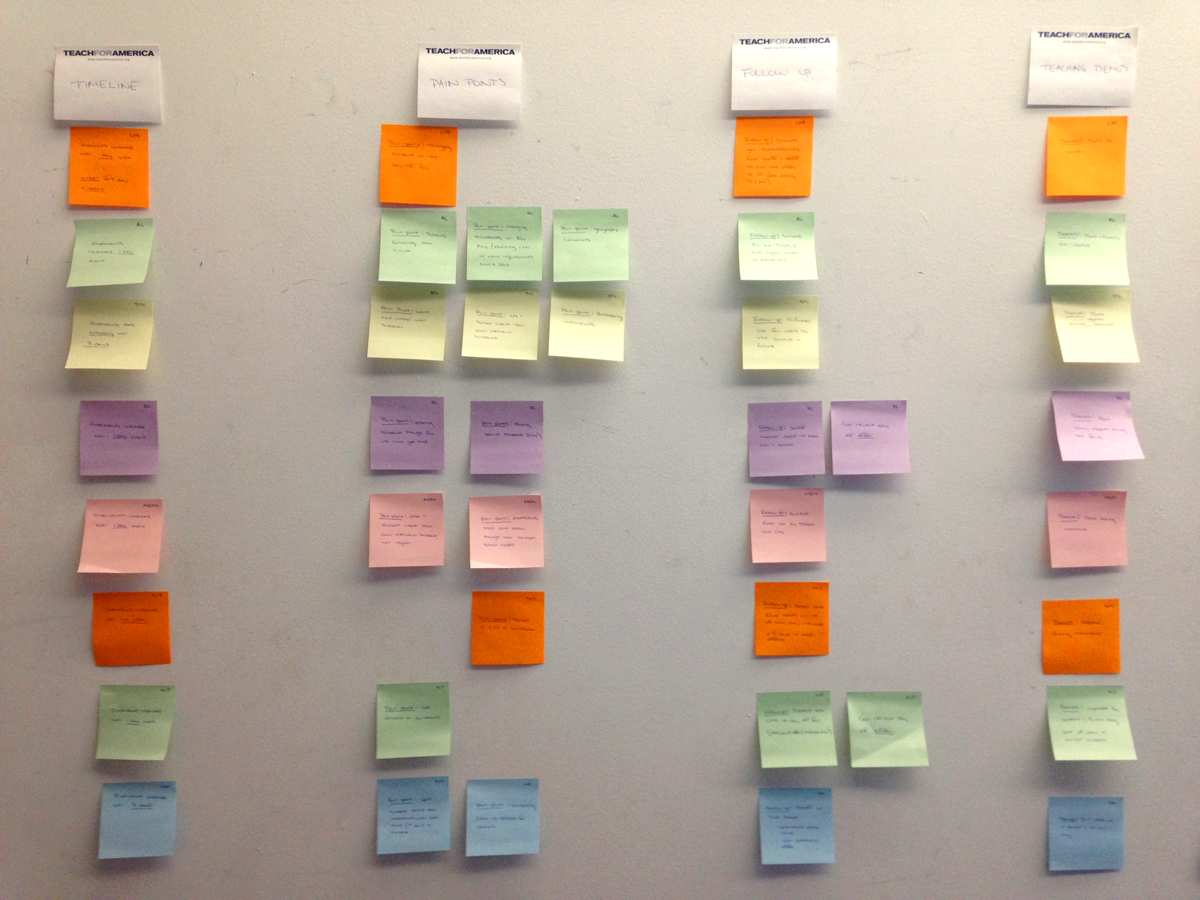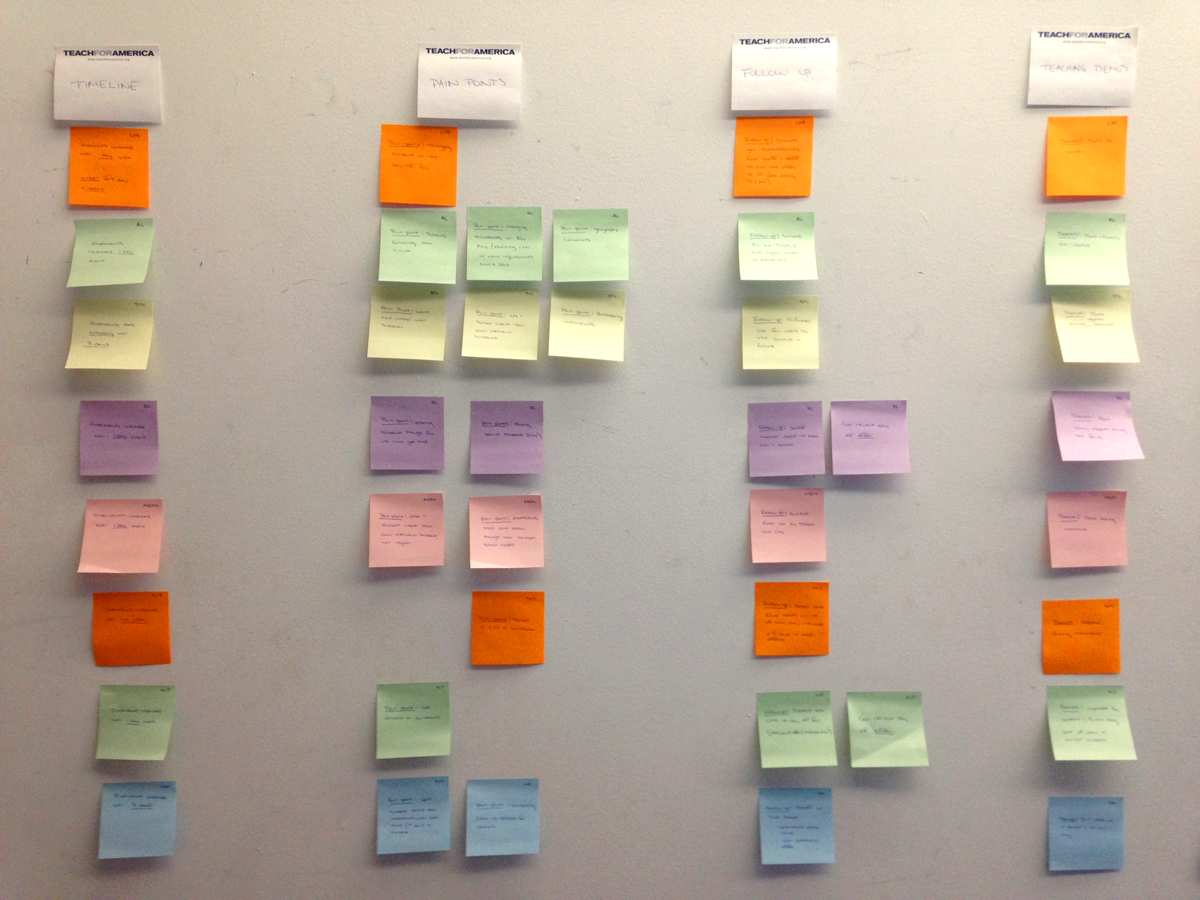 Sketching & Wireframing.
Once my team understood our user's needs, which were quite wide-ranging, we were tasked with designing a solution that would work for the majority of regions. Through sketching and wireframing my team was able to brainstorm a variety of features that would solve for a range of use cases.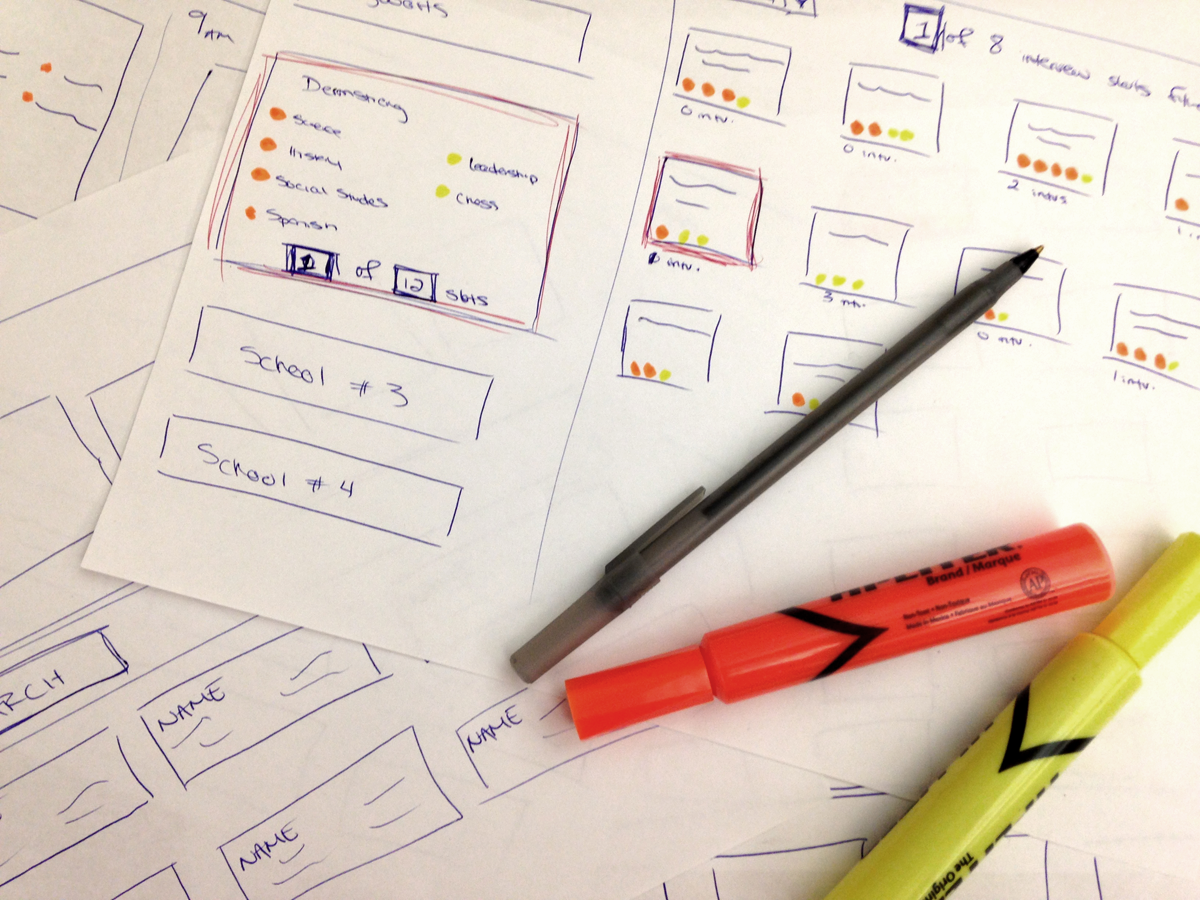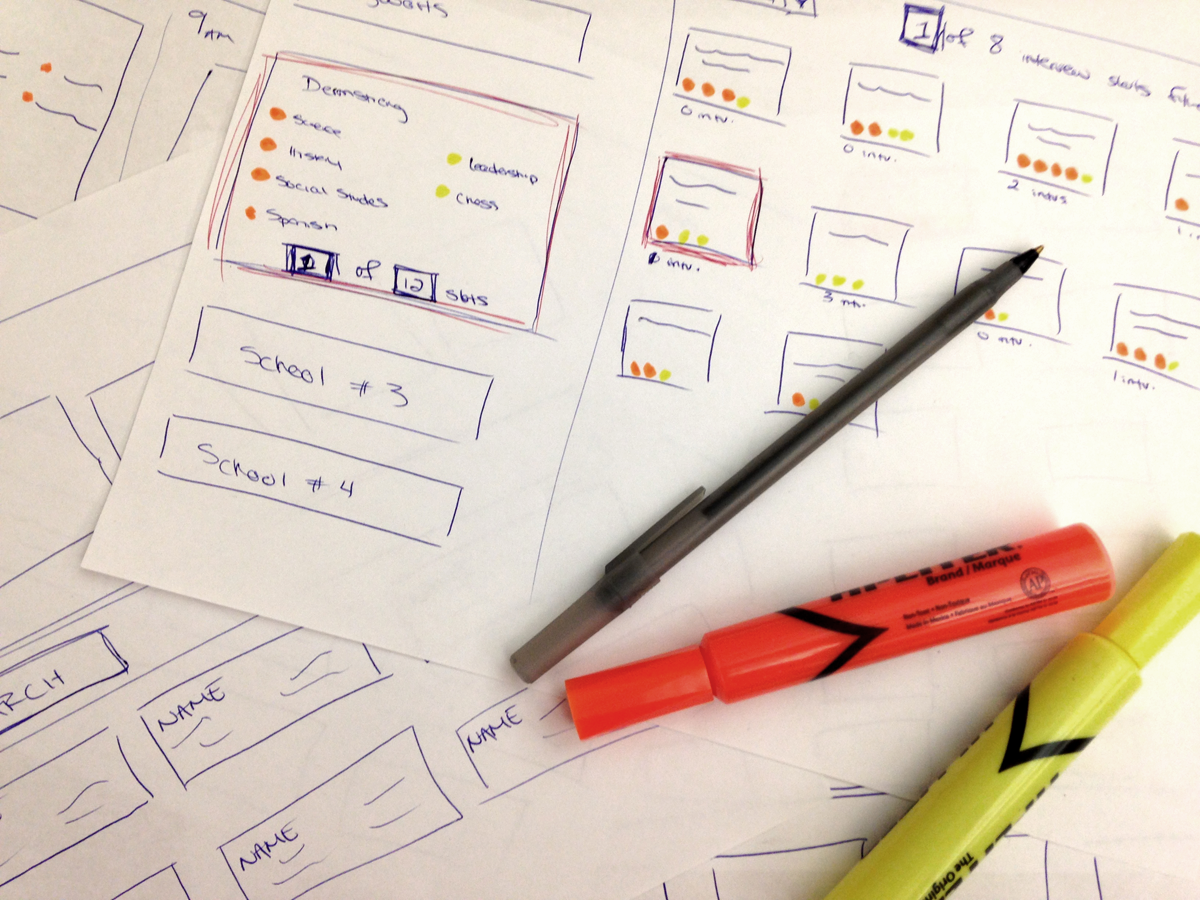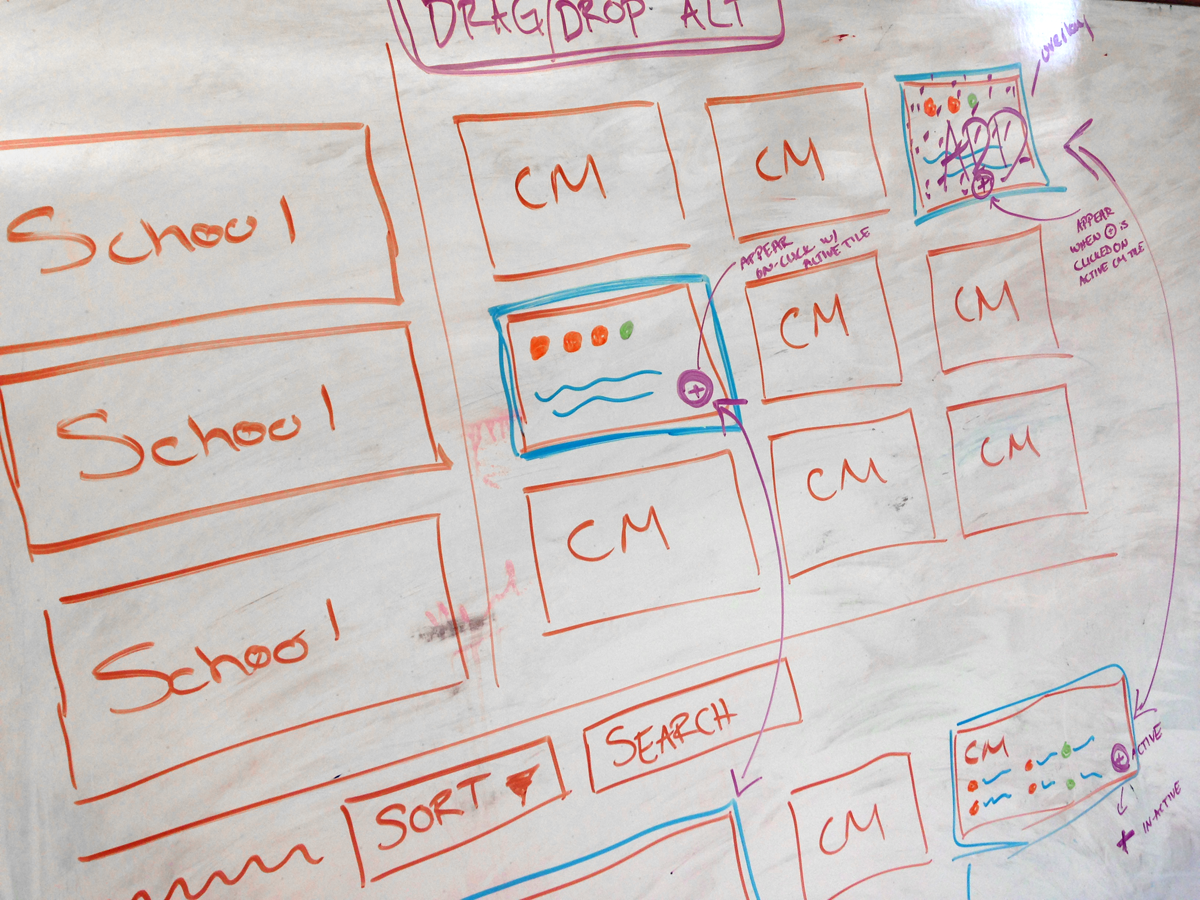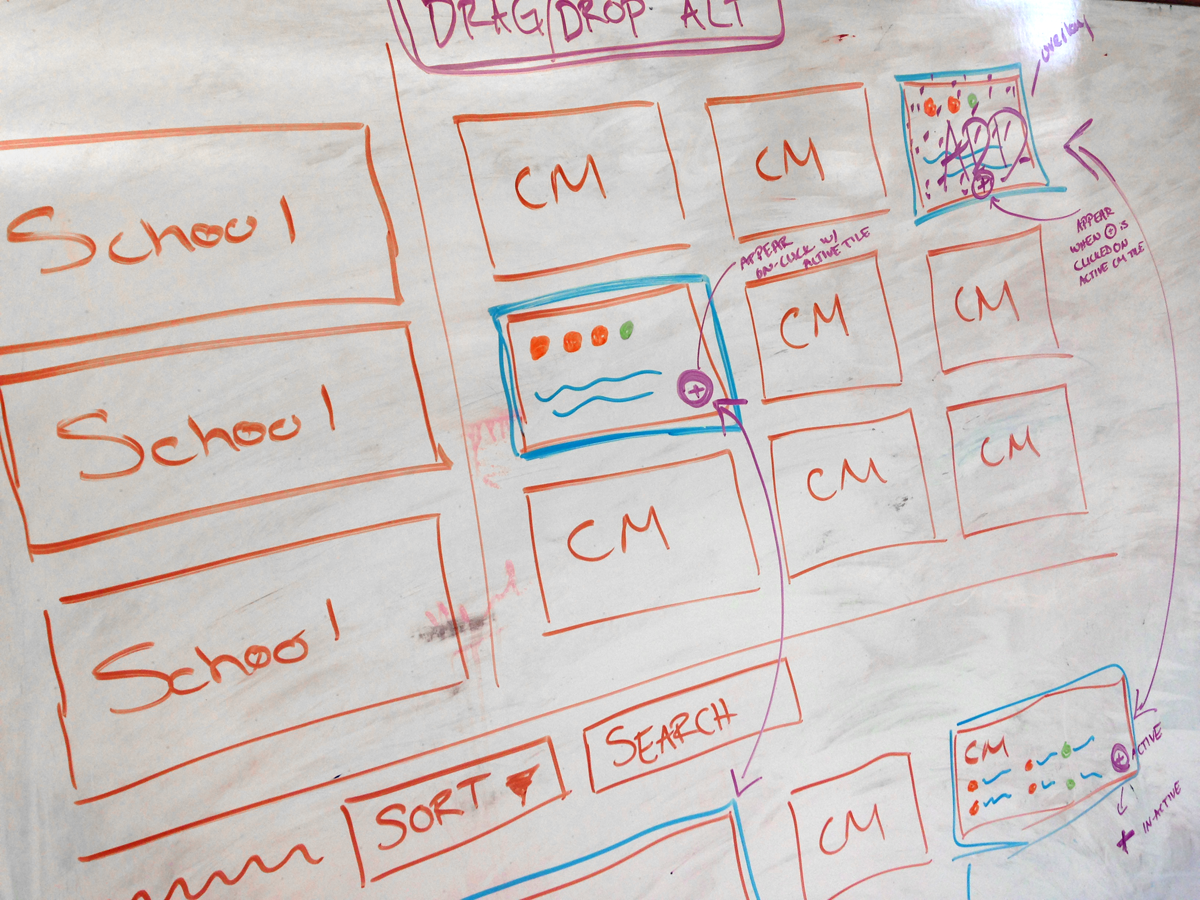 Prototyping & Testing.
After the initial design concepts for the application were completed, we sat down with the development team to discuss our ideas and make sure we were not asking for a product that could not be delivered within time and budget. We then made slight tweaks to our concepts based on the developer feedback and prepared our mocks for the first round of usability testing.
I designed the usability test by writing tasks, scenarios, and creating a clickable prototype. I then led usability tests with 9 users over the course of a month and three rounds of testing. The testing was completed remotely using screen sharing-software.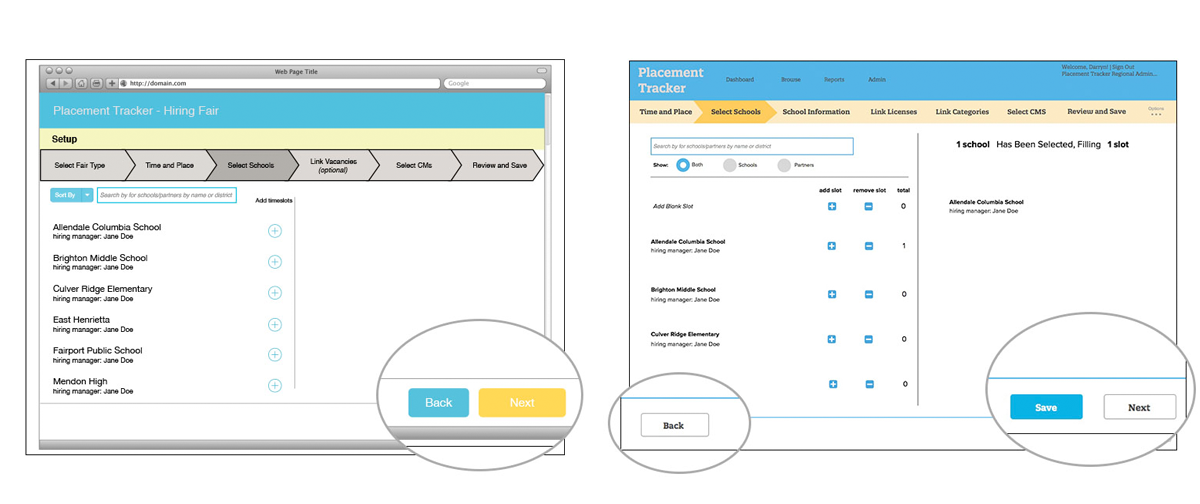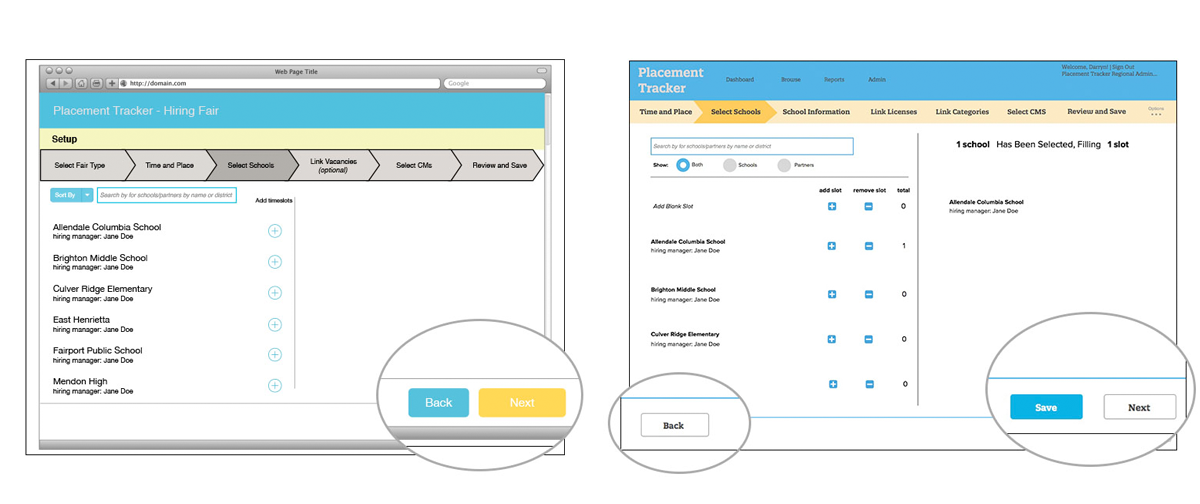 Agile Product Development.
The User Experience team worked very closely with engineering throughout product development, in an agile workflow process. The usability testing occurred in conjunction with the first few product sprint cycles. The development team was receptive to feedback and allowed our team to request changes based on user testing feedback. During this constant iterative cycle, communication between UX, Front-End, and the Tech Lead was critical.
I created all UI, visual design, and interaction design components for the Hiring Fair application. I also spearheaded the use of a new collaborative UI tool, Zeplin, to increase productivity between UX and Front-End developers.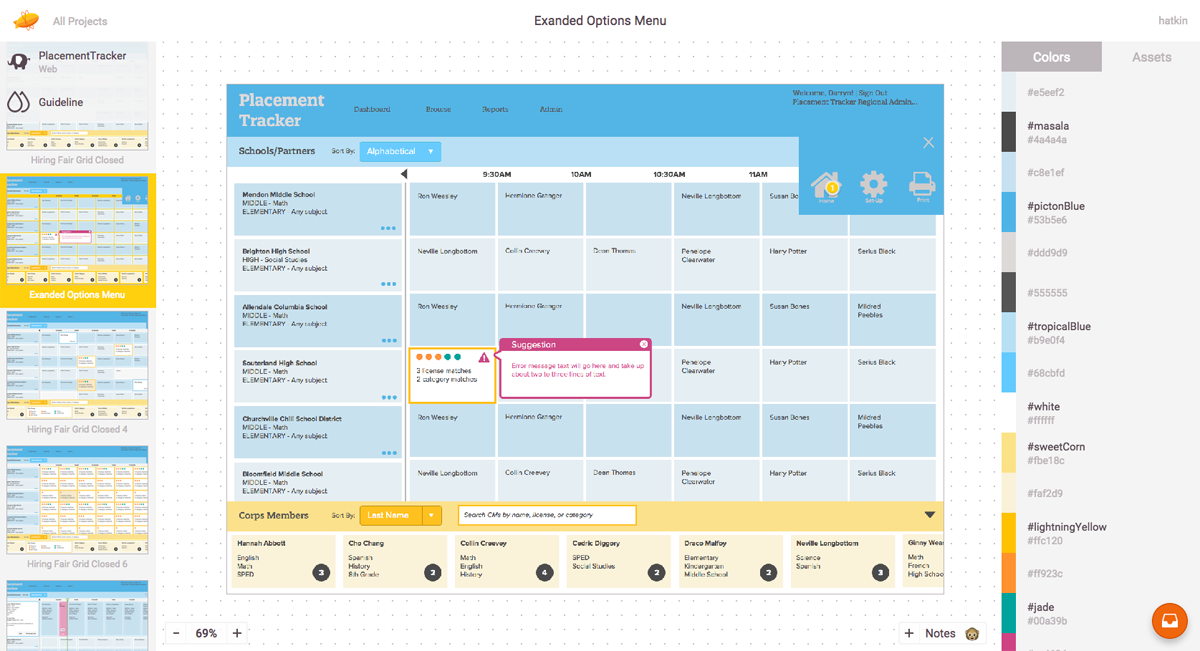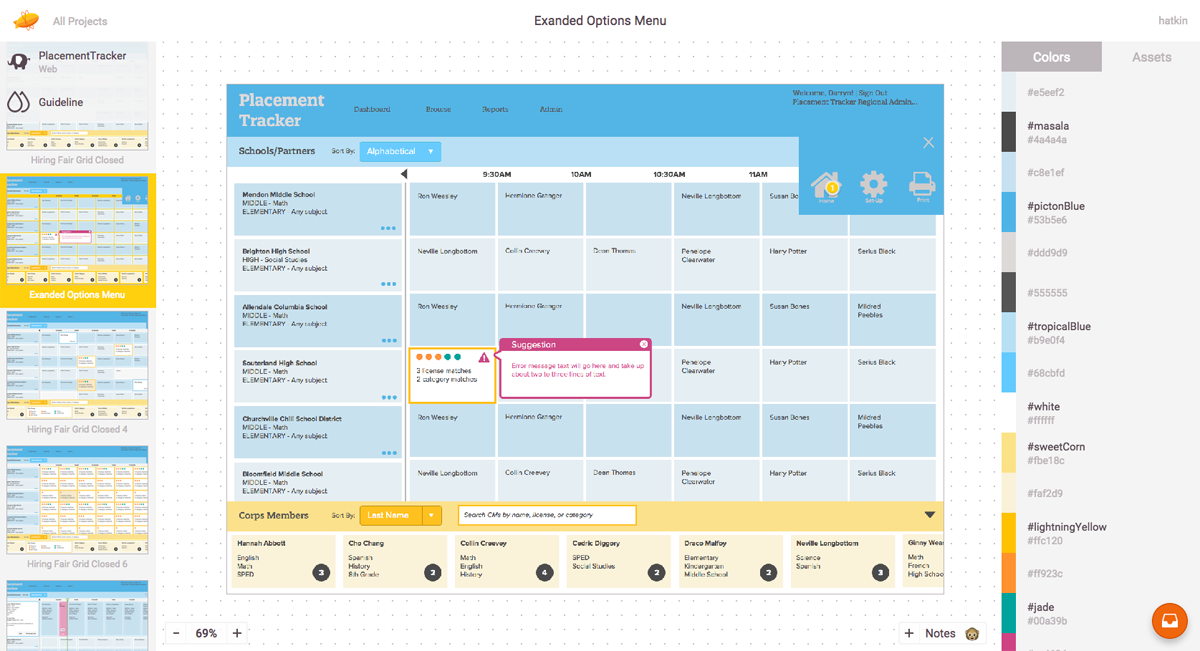 Hiring Fair in Action.
The Hiring Fair application was launched in time to be used during the spring 2015 hiring season. Immediately users began reporting that the Hiring Fair tool saving them enormous amounts of time, cutting previous creation times by well over half.
I traveled to our New Jersey region to watch the tool in action. Here I had the opportunity to talk with our first adopting users and get a chance to observe them using the tool during an actual hiring fair event. This allowed me to learn what was working well and what our team can improve on moving forward.